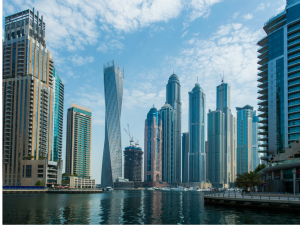 The Challenge Dubai Triathlon kicked off on Friday February 27. The event was a part of the first round of the Triple Crown Championships with $300,000 in prize money up for grabs.
The triathlon tour spanned 113km and included three competitions: running, swimming and cycling. More than 800 athletes were in Dubai to witness the event, and 110 participated. Among the participants was Gomez of Spain, a title favourite, as well as Michael Raelert of Germany and Ironman European Champion, and Helle Frederikson of Denmark and London Olympics 2012 champion. But it was Daniela Ryf, a Swiss athlete, and Terenzo Bozzone from New Zealand that took home the titles of champions.
The event kicked off at 6:30 AM with swimming. The cycling and running contests followed. The swimming contest was held in batches in an area near Jumeriah Beach Park. The cycling contest moved toward Meyden and passed through Al Safa Park and Nad Al Sheba before reaching Al Ain Road and returning to the starting point. The third contest, running, spanned 21.1km. Participants ran this distance twice before the award ceremony.
The triathletes faced challenging conditions, particularly during the swimming contest. Waters were choppy, which made visibility difficult. But despite these conditions, Ryf and Bozzone would go on to give some of their best performances yet.
Daniela Ryf, 27, performed the fastest bike (2:18) and run (1:17) split, and won by over four minutes. The Swiss athlete and Ironman 70.3 champion beat out Canadian athlete Heather Wurtele and fan favourite Helle Frederiksen of Denmark. Terenzo Bozzone beat out Australia's Tim Reed and Germany's Michael Raelert.
Ryf experienced problems with her gears during the contest, stating that she was stuck in fifth gear. Despite this issue, Ryf would transition into the running contest with a near-three minute lead over Jodie Swallow of Great Britain. Heather Wurtele of Canada beat out Jodie Swallow to take second place. Frederiksen followed closely behind, overtaking Swallow.
Javier Gomez and several other male athletes were out of the event within just six seconds of each other. After conditions took their toll, Gomez withdrew from the race, stating that he wasn't feeling well. Terenzo Bozzone took first place and his $65,000 piece of the prize.
But the event was not without its flaws. There was a shake-up in the podium after five of the leading participants were found to have cut the course. Four-minute penalties were given to those athletes, including Michael Raelert who slipped from second to third place. According to event officials, the athletes did not purposefully try to gain an advantage by cutting the course, but rather, were led in the wrong direction while following a motorbike outrider.
The Challenge Dubai, which attracted athletes from 45 countries, was a tremendous success. Two more events will take place in Oman in August and Bahrain in December. Both Ryf and Bozzeman are focusing on August's contest. If they succeed, it's on to the final contest in Bahrain, which will award the highest prize purse in the history of the sport.
If you are interested in taking part in The Challenge Dubai in 2016 then we recommend that all participants begin training as soon as possible. For complete beginners we advise triathletes to  Read some exercise bike reviews, start swimming regularly at your local pool and get running as often as possible, either at a gym or outside.