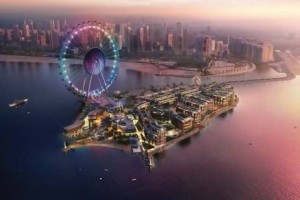 There has never been a place like Dubai on the planet and it doesn't seem like that is going to change any time soon. Among its other amazing destinations, like the Burj Khalifa, the Palm Jumeirah and the World Islands, Dubai is now set to be home to a new must-see location: Bluewaters Island.
A Manmade Island
It says something about Dubai that news of a manmade island is no longer shocking. The famous city already has 10 including The Universe, Burj al-Arab and The World Islands. By now, each has been photographed countless times and seen all over the world.
But now Dubai will be adding another one to the list. It is being built 1,600 feet off the coastline of Jumeirah Beach Residence, located close to Dubai Marina.
It was unveiled on February 13, 2013 by Vice-President and Prime Minister Mohammed bin Rashid Al Maktoum who had granted his approval for the project. The same Dutch company that handled the dredging needed for Palm Jumeirah will also do so for Bluewaters Island. The company, Van Oord, was due to begin the build in April, but were delayed a month.
The Dubai Eye
However, if you thought Dubai would simply call it quits with just another manmade island, you clearly don't know Dubai. The island will also host the Dubai Eye, which will become the world's largest Ferris wheel. Inspired by the London Eye, this Ferris wheel will be much, much taller and have no rival. Set to stand 210 meters above the ground, its closest competitor is a Ferris wheel that was just finished in Las Vegas which stops just short at 170.
Interestingly, however, the firm in charge of building the Dubai Eye, Starneth Engineering, is also the same company that built the London Eye. Will this new version enjoy as much commercial success and popularity as its predecessor? Considering that the unprecedented view will take in Burj Al Arab, Burj Khalifa and Palm Jumeirah—from never before seen vantage points—all signs point to a definite yes.
Furthermore, at the base of the wheel is going to be a vast entertainment center. Plus, the wheel itself will showcase a large LED screen providing a platform for broadcasting and advertising to untold numbers.
Construction was due to be completed in 2015, though delays with Bluewater Island may have pushed that date back some.
More to Offer
That's not all though. With so much manmade land to cover, Bluewaters Island is also going to play host to a souk, residential buildings, retailers, restaurants, bars, hotels and, of course, roadways that will connect the island to the rest of the city. It sounds like they'll be needed too, as Bluewaters Island is expected to see some 3 million visitors every year.
So if you thought Dubai was done amazing the rest of the world, think again. The ambition alone that was necessary just to conceive of Bluewaters Island is unlike any other on the planet. Now we just have to wait and see if it pays off.